Brownies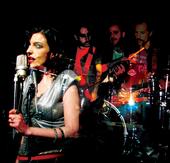 Efrat Darky is a Tel Aviv based singer/songwriter. Leading singer of Brownies, a group which style mixes pop, rock and electronic.
Darky started her musical way during acting school, where she formed a theater music group (1998). In 1999 she formed her an electro-punk band named Shia. In 2002 she started working on the album "Home Made Recipe" with Tomer Ben Ari, who also produced the album. Soon after "Brownies" was formed.
In 2005-2007 Darky was also working on a Hebrew album, but the project files were stolen from her producer's studio and the project halted. She managed to release one single from it in 2007, named "Al Tevater" (don't give up).
The English album, "Home Made Recipe", mixing electronic beats, grooves and guitars, was released internationally in 2008. It was recorded entirely in Darky's home studio, hence its title.
Brownies are:
Eyal sucher – Guitars and Vocals;
Yaniv kadosh – Bass;
Ron Hizkiyahu – Drums
The group has been preforming live across Israel since 2006.
Past Members:
Udi Bloom – Guitars
Hagit Shapira – Bass
Ofir Vander – Keyboards
Rubi Dervis – Keyboards
Itay Wais – Drums
Oren Abutboul – Drums
Maya Tanner – Violin